The Blind Pig has grown rapidly and is about ready to enter into its second summer in the downtown Portland, Maine area. With that growth comes a need for new stylists to accommodate our increasing number of clients here in the Old Port. We are very excited to announce the newest expansion within our company by introducing The Blind Pig Barber Company Grooming Academy.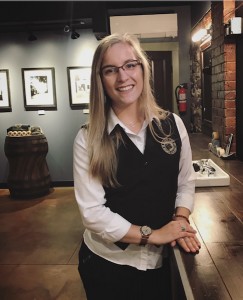 Starting this summer we will be taking on new team members who have recently graduated from neighboring barber and cosmetology schools. We will be providing them with a four-week training program, all overseen by our floor and training manager, Jaime DuBois. For those of you who have not met Jaime, she has not only been cutting hair for five years, but has also been with the Blind Pig before our doors were even open. Today she is both our longest standing stylist and in the highest demand for appointments.
What is the Blind Pig Barber Company Grooming Academy?
As mentioned, it is a four-week program that allows students who have recently graduated to get hands-on training in the workplace. These new team members will work one-on-one with Jaime to improve and practice their skills, learn Blind Pig techniques, and begin to build their own client base by taking walk-ins and appointments that are booked online under the Grooming Academy. Upon successful completion of the program these team members will then have all the tools necessary to work on their own.
What is in it for you as a client?
While a service may take a little longer, you will now be able to book services through our web site under "Grooming Academy" and receive anywhere from 20-33% off of our regular rates, all while receiving the same great Blind Pig treatment. Also, with all the new team members it will be easier to schedule that specific time slot to make it in when life happens. The best part is that you are also GUARANTEED a great outcome since new stylists will have Jaime working with them directly.
As a graduating barber/cosmetologist, how do I get involved?
All interested graduating students must apply and will be hand selected with a maximum of four students chosen for every four-week program. We are already accepting applications, which must include a resume, cover letter, letter of recommendation from a school instructor, and a headshot photo. As a Grooming Academy team member you will receive paid, one-on-one training, a uniform, and a startup kit with all the essential tools to get started, along with the ability to continue working on the team upon completion.
So book your appointments at the new special Grooming Academy rates and turn in your applications! We look forward to all the new faces and exciting things coming in the future!